What Is Internet and Digital Marketing and Why Do You Need To Do It?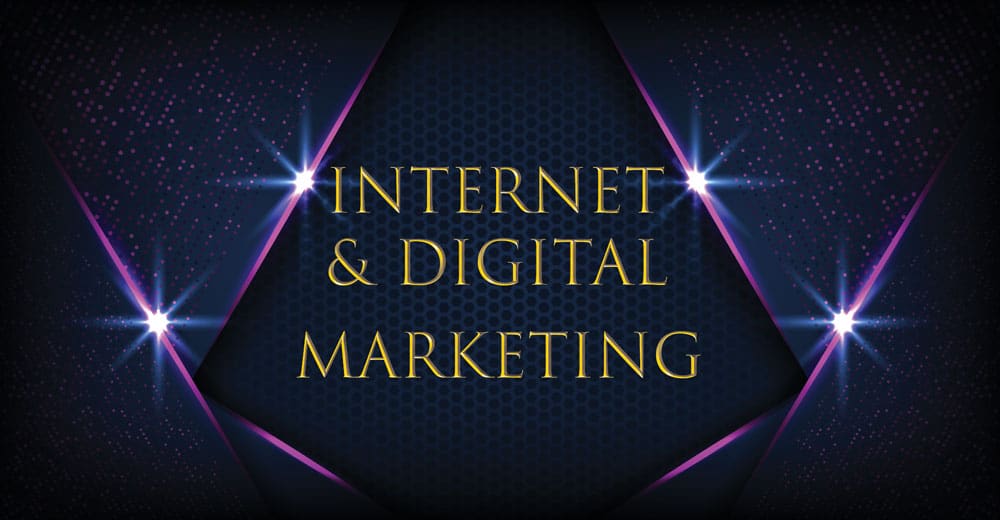 If you have a business and you don't market it on the internet, then you are losing out on being visible to not hundreds, but millions of potential clients and customers.
Almost 4.66 billion people were active internet users as of October 2020, encompassing 59 percent of the global population. Mobile has now become the most important channel for internet access worldwide as mobile internet users account for 91 percent of total internet users.
46.6 million people used the internet daily in Great Britain during 2020 according to the United Kingdom's (UK) Office for National Statistics (ONS), breaking the record set one year prior.
Marketing is about making yourself known and visual to potential clients and customers who may buy your products or services. Traditional marketing included print advertisements, brochures, flyers, and adverts in papers and magazines, radio and T.V. as well as on advertising boards. Traditionally this was a very expensive way of marketing your business and you were not guaranteed of reaching a targeted audience of people who were looking for, or who may be interested in buying your products or services.
Internet and Digital Marketing
Internet and Digital Marketing for your business is a completely different way of marketing. Compared to traditional marketing, you can start with as little as a Facebook Page, which costs nothing, then move onto a website and develop your Marketing Plan from there.
The number of people who are interested or maybe looking to buy your products or services can run into thousands. Instead of spending money and hoping that your ideal customer will happen upon it, you can target your ideal customer with advertising such as Facebook Marketing or Google Ads, for a relatively small amount of money. You will also be able to check your analytics and see where your visitors are coming from, who they are, and whether your advertising is working. You will be able to see whether they have clicked on your advert, page and whether they are buying products off you.
Putting the Social in Social Media
Social Media is free and again can reach thousands of your potential customers or clients. The only cost is the time that you spend on it, or that you pay someone else to do it for you.
By posting on Social Media, you are able to build up a relationship with people that in the normal world, you would never be able to get near. If you try to find out who is the person that you want to target in a company nowadays, you are normally only able to speak to the Customer Service number. However, if you use a platform such as Linkedin, you are able to build up a network of contact and relationships which will have the potential to help you to directly message and speak to the CEO, MD, or other influential people that you wish to speak to.
However, the internet can be an overwhelming place, if you are not used to using it and don't fully understand how to get the best from it. The key is to make your company stand out from the crowd and in front of your competitors.
It also enables you to build up a relationship by letting your customers or clients get to know more about you and your USP (Unique Selling Point). It allows you to have conversations, ask questions and give away helpful information and tips that help you to build your reputation as a business.
How do you do this?
By Internet Marketing.
What is Internet Marketing?
Internet Marketing can include Social Media platforms, websites, Ecommerce Stores, digital channels like YouTube, Search Engines such as Google and Bing, and Email Marketing.
Why Should You Do Internet Marketing?
If you have a High Street presence, at the moment, you have probably been closed down several times for a period of weeks or even months. No one is able to buy your services or products. However, in a majority of businesses, you could be selling your products or services online. The other benefit is that not only will they be available 24/7, but many of the sales can be automated, so that you are still selling when you are asleep, rather than in a 9-5 business.
This does not in any way mean that you have to give up your presence on the High Street. There is no reason why, when the Coronavirus Pandemic situation has improved, that you cannot still keep your online Ecommerce Store or website as a valuable part of your marketing strategy.
What is the Key Benefit of Internet Marketing?
The key benefit is to attract new clients or customers. The core reason for this is to get more sales and revenue for your business.
The method of this is to set up a Social Media presence and a website or Ecommerce Store. A Social Media presence can include anything from a Facebook Business Page to a Linkedin profile, an Instagram account, Pinterest, Twitter, etc. Once you have these in place, you need to drive traffic to your site or page.
There are many different strategies for doing this such as paid Social Media adverts, SEO, and paid Google ads. With platforms like Facebook, you can even target a 'Lookalike Audience', who consist of an audience similar to your key target ideal clients.
With all of the paid methods, you can target your specific ideal audience and their core demographic.
However, before you pay for any advertising, the most important thing is to ensure that you have done your market research and that you have identified your target market audience and who your ideal clients are. It is no good just randomly paying for advertisements if you don't know who you are trying to attract.
SEO
To attract new clients and customers you will have to have good SEO (Search Engine Optimization). You need to be above your competitors with your keywords and Meta tags so that your ideal clients and customers find you, rather than someone else who sells similar products or services.
Making sure that you have optimized your Google and Bing searches will ensure that you are found when someone searches on the internet for your services. Google will provide you with a free website so that when someone searches your local area, they will find you and click on your website. It has been proven that approximately 80% of local mobile phone searches result in an offline purchase and local Google or Bing searches mean that 50% of all mobile phone users will visit your online store.
Your Website is Your Window to the World
Your website is your opportunity for showing your potential clients and customers what services you offer and why they should choose you, rather than your competitors.
If you have an online presence, It is imperative that you have a strong brand and identity. (See Branding page on my website.)
You want your website visitors to identify what your services and products are and also what your company vision and ethics are. Your brand will make you stand out from the crowd and make you easily identifiable.
Your website is a platform where you can build trust and clarity on what your company has to offer. If your site is muddled and confusing, your visitors will simply click away and go to your competitor's websites, thereby losing you their business.
Another key element to your website is to ensure that it is mobile friendly. Up to 91% of worldwide internet use is by mobile phone depending on the sector. If you only rely on potential customers or clients using desktop devices, you are losing out on circa 10% of your ideal clients.
Building Your Tribe
Internet Marketing is the most valuable tool for building a tribe of loyal customers and clients. It is a mechanism where you can build a loyal customer base of people who are interested in what you have to offer as a business. It is a means for staying in touch with your customers and being able to send them special offers or discount codes either by email or Newsletters.
It costs five times more to attract a new customer than it does to keep an existing one. Offering excellent customer service and value for money, communication and ensuring that you appreciate their loyalty, is key to your business success.
If any of this sounds of interest to you, or if you are dazed and confused by it, please do not hesitate to contact Ali by email at ali@alimcoaching.com or phone her on +4479 6813 4048 and let her help you to make your business a success.